The Anygig Travel Guitar!
The next level of travel guitar
Why Anygig?
The main concept of Anygigs' design is "Simple", "Balanced", "Portable" and "Stable". The Anygig Design is portable and balanced with perfect playability!
We designed "Anygig" to keep the scale length of a general guitar. A general guitar has a 25.5 inch scale length and it gives a great tension on the strings and very stable tuning.
To make a smaller design, some portable guitars use a shorter scale than general guitars, which gives weak string tension and unstable tuning.
The Anygig strapholder is designed for comfortable playing. The special shape of the strapholder keeps a strap securely held away from the neck and helps balance the guitar while playing.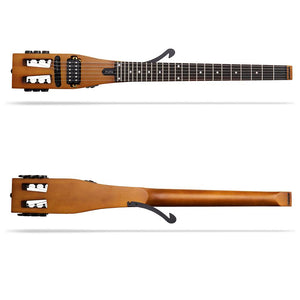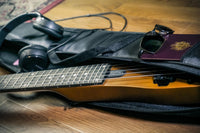 Create anytime, anywhere
The Anygig Travel Guitar is designed to go wherever life takes you. Small enough to take on planes, trains and automobiles. Take it everywhere so you are ready when inspiration strikes!
Designed with a full scale guitar in mind!
We use traditional hardware and even a full size pickup on our AGE models. The AGE SE model is the latest from the Anygig team with 3+3 tuners and and convinent strap button.